PIZZAS & CALZONES
All pizzas and calzones are baked in our Woodstone oven next to an open flame. Pizzas come in two sizes, Regular
11"-12" feeds 1-2 people, and Large 16" for 2-3 people. Please add twenty minutes for the calzones.
Add our Pecan Apple, soup or Grilled Caesar salad for $4.25.

Try our Gluten-Free pizza crust. Available in our regular size crust only.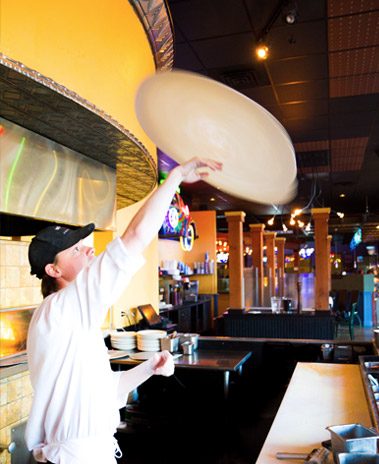 NEW YORK CHEESE PIZZA
Inspired by the pizzas in New York, duh! 11.75 / 16.75
MARGHERITA PIZZA
Fresh tomatoes, basil, mozzarella, and olive oil. 12.50 / 18.50
PEPPERONI PIZZA
Pepperoni, mozzarella and tomato sauce. 14.50 / 20.50
PEPPERONI MUSHROOM SAUSAGE PIZZA
Mushrooms, pepperoni, Italian sausage, tomato sauce and mozzarella. 15.50 / 21.50
THAI PIZZA
Marinated chicken, prawns, mushrooms, peanuts, mozzarella, cilantro and a spicy peanut sauce. Careful, this one is very addicting! 16.95 / 21.95
BUFFALO CHICKEN PIZZA
Spicy chicken, green onions and mozzarella cheese with our house-made buffalo sauce. Served with celery and blue cheese dressing. 16.75 / 22.75
EAST MEETS WEST PIZZA
Half Thai pizza, half Buffalo Chicken pizza. 16.95 / 22.95
WE LOVE MEAT PIZZA
Italian sausage, Canadian bacon, hickory smoked bacon, pepperoni, black olives, tomato sauce and a six-cheese blend. Garnished with fresh diced tomatoes. 17 / 23
SIX CHEESE PIZZA
Cheddar, Parmesan, smoked Gouda, Swiss, mozzarella and Fontina cheeses with a garlic cream sauce. 16.75 / 22.75
BBQ CHICKEN PIZZA
Buffalo chicken, smoked Gouda, mozzarella, sliced red onions, barbeque sauce and cilantro. 16.50 / 22.50
HAWAIIAN PIZZA
A traditional favorite! Our house-made red sauce, Canadian bacon, pineapple, and mozzarella. 15.50 / 21.50
VEGETARIAN PIZZA
Red onions, spinach, broccoli, Roma tomatoes, olives, sunflower seeds, mushrooms and red peppers in a garlic cream sauce with Feta, Parmesan and mozzarella cheeses. 16 / 22
BLACK & WHITE PIZZA
Garlic infused olive oil with Ricotta, Mozzarella, Parmesan, and Fontina cheeses, hickory-smoked bacon, and fresh ground pepper, topped with a balsamic glaze. 17.25 / 23.25
CAJUN CALZONE
Chicken, pepperoni, onions, black olives, our famous Cajun cream sauce, ricotta and mozzarella cheese. 16.50
DELUXE CALZONE
Pepperoni, salami, Canadian bacon and marinated chicken with red onions, black olives, ricotta cheese and mozzarella cheese. 16.75
ITALIAN SAUSAGE CALZONE
Italian sausage, mozzarella, green peppers, black olives, mushrooms, onions and tomato sauce. 16.50
MAKE A RESERVATION
To book a table, you can call us at (509) 455-4400 OR click on the link below.
Our BAKED PESTO SALMON is one of our most popular dishes: Wild Alaskan Sockeye salmon baked in a basil pesto and layered with fresh arugula, Italian-marinated roma tomatoes and toasted pine nuts. Served over a wild rice and finished with a balsamic reduction.