PIZZAS & CALZONES
All pizzas and calzones are baked in our Woodstone oven next to an open flame. Pizzas come in two sizes, Regular
11"-12" feeds 1-2 people, and Large 16" for 2-3 people. Please add twenty minutes for the calzones.
Add our Pecan Apple, Soup, Chili, Pea Salad or Grilled Caesar salad for $4.

Try our Gluten-Free pizza crust. Available in our regular size crust only.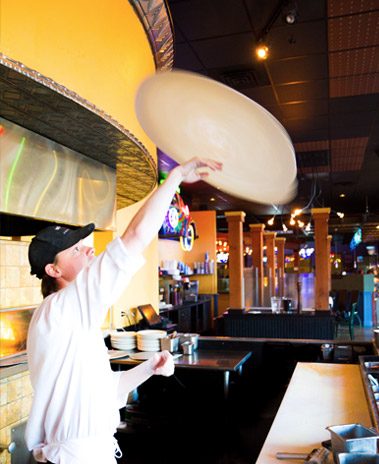 NEW YORK CHEESE PIZZA
Inspired by the pizzas in New York, duh! $13.5 / $18.5
MARGHERITA PIZZA
Fresh tomatoes, basil, mozzarella, and olive oil. $16 / $22
PEPPERONI PIZZA
Pepperoni, mozzarella and tomato sauce. $16.5 / $22.5
PEPPERONI MUSHROOM SAUSAGE PIZZA
Mushrooms, pepperoni, Italian sausage, tomato sauce and mozzarella. $18.5/ $23.5
THAI PIZZA
Marinated chicken, prawns, mushrooms, peanuts, mozzarella, cilantro and a spicy peanut sauce. Careful, this one is very addicting! $19.5/ $25
BUFFALO CHICKEN PIZZA
Spicy chicken, green onions and mozzarella cheese with our house-made buffalo sauce. Served with celery and bleu cheese dressing. $19/ $24
EAST MEETS WEST PIZZA
Half Thai pizza, half Buffalo Chicken pizza. $19.5 / $25
WE LOVE MEAT PIZZA
Italian sausage, Canadian bacon, hickory smoked bacon, pepperoni, black olives, tomato sauce and a six-cheese blend. Garnished with fresh diced tomatoes. $21 / 27
SIX CHEESE PIZZA
Cheddar, Parmesan, smoked Gouda, Swiss, mozzarella and Fontina cheeses with a garlic cream sauce. $18/ $23
BBQ CHICKEN PIZZA Buffalo chicken, smoked Gouda, mozzarella, sliced red onions, barbeque sauce and cilantro. $19 / $24
HAWAIIAN PIZZA
A traditional favorite! Our house-made red sauce, Canadian bacon, pineapple, and mozzarella. $18.5 / $23.5
VEGETARIAN PIZZA
Red onions, spinach, broccoli, Roma tomatoes, olives, sunflower seeds, mushrooms and red peppers in a garlic cream sauce with Feta, Parmesan and mozzarella cheeses. $18.5 / $24.5
BLACK & WHITE PIZZA
Garlic infused olive oil with Ricotta, Mozzarella, Parmesan, and Fontina cheeses, hickory-smoked bacon, and fresh ground pepper, topped with a balsamic glaze. $19 / $24
GREEK CHICKEN PIZZA One of our best sellers is now a pizza. Kalamata olives, sun-dried tomatoes, oven roasted chicken, artichoke hearts, feta and parmesan cheese. $20 / $25
CAJUN CALZONE
Chicken, pepperoni, onions, black olives, our famous Cajun cream sauce, ricotta and mozzarella cheese. $19
DELUXE CALZONE
Pepperoni, salami, Canadian bacon and marinated chicken with red onions, black olives, ricotta cheese and mozzarella cheese. $19.5
ITALIAN SAUSAGE CALZONE
Italian sausage, mozzarella, green peppers, black olives, mushrooms, onions and tomato sauce. $19
CALL FOR TAKE OUT
(509) 455-4400
Our BAKED PESTO SALMON is one of our most popular dishes: Wild Alaskan Sockeye salmon baked in a basil pesto and layered with fresh arugula, Italian-marinated roma tomatoes and toasted pine nuts. Served over a wild rice and finished with a balsamic reduction.