DESSERTS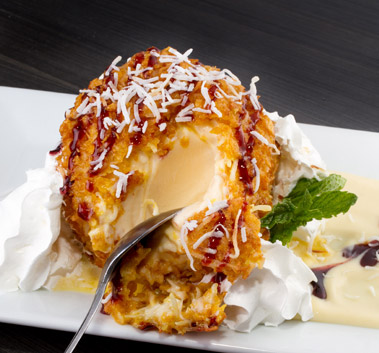 French Vanilla Ice Cream 2.95
Crema Caramella (Burnt Cream) 5.75
A rich vanilla custard topped with a caramelized sugar crust.
NY Cheesecake 5.95
NY style cheesecake on a graham cracker crust topped with strawberries and drizzled with chocolate sauce.
Tiramisu 7.00
The best one you'll ever experience! Layers of Brandy laced ladyfingers, shaved Chocolate, mascarpone and creamy Kahlua custard.
Deep Fried Ice Cream 5.95
Coconut breaded French vanilla ice cream with whipped cream and raspberry sauce.


Chocolate Torte 5.50

This irresistible cake tastes of fine chocolates, and rich chocolate pudding, covered with chocolate cream cheese icing. Served ice cold. 5.00
Gi-normous Mud Pie 7.25
Layers of Kona coffee and chocolate ice creams, covered in whipped cream and chocolate sauce on a chocolate cookie crust. This one is great for sharing!
MAKE A RESERVATION
To book a table, you can call us at (509) 455-4400 OR click on the link below.
Our ITALIAN NACHOS are one of our most popular starters: A twist on nachos. Crispy pasta chips, a creamy Asiago and mozzarella cheese sauce, fresh tomatoes, Italian sausage, black olives, green onions and pepperoncini.